Snakeskin Shoe Review:

Snakeskin Shoe Review came together with one clear goal in mind. To hang around in Stevie's Man Cave garage conversion watching Vintage TV and drinking tea. We are THAT Rock and Roll! From a handful of hastily put together easy cover songs we began to develop our own material - quirky and undefinable.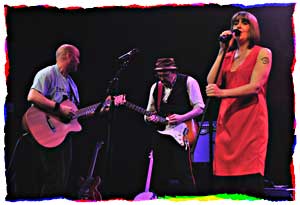 Bathgate's Regal Theatre is our spiritual home. The whole idea to form a band stemmed from a music club that James Kerr ran from a small back room in the venue, Initially a 2 weekly informal get together based on a loose theme where like minded music fans could come together, discuss a topic and play a few songs. In an attempt to build the membership a little the regulars in the club got together in the first instance to do a set of individual performances, this worked well and the following year we did it again but his time decided to do a few songs as an informal group, the next step after that was to do a full band performance in the theatre. Still relying on a set entirely made up of songs that we had all covered in the club this went down surprisingly well. We were well and truly bitten by the bug to have a proper band so next time out we went all out for a mixed set of covers and original material. 
From there it was a natural short step to build on the songwriting talent in the band and work up the material into a CD. The arrival of Peter on keyboards helped facilitate this once he had a good home recording setup - within a few months we had our debut album; 'Criticism' recorded, pressed and printed and in our sticky mitts.
Recently we completed our second album; 'Futurists' available here, online and in selected outlets.


The band has the philosophy of a 'loose collective' We have a central dense core who we refer to as James. He is  surrounded a hot magma of musicians with a gaseous plasma of associated performers who drop in and out as required. We have performed as a solo act, a duet and every combination right up to our last gig where we had 11 people on stage by the end of the night. No matter the venue; from front room to a full sized stage SSR can make the right noise.
Come and see us sing and play...